Message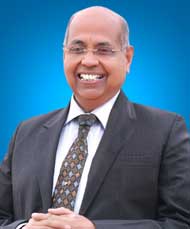 Shri Purushottamdas Pasari
Chairman, Shri Vaishnav Group of Trusts, Indore
"The highest education is that which does not merely give us information, but makes our life in harmony with all existence"
Education is the most powerful tool to bring enviable changes in one's personality and bring positive changes in the society. It is the only medium which enables to move from darkness to brightness.
Empowerment of students for their all round development through education is our cherished motto. Today education means much more than merely acquiring knowledge. It is also acquirement of knowledge and skills, building character and improving employability of our young talent, the future leadership.
I strongly believe that, there cannot be other way to drive and improve our nation's prosperity and socio-economic well-being than through its education system. I also believe that, technocrats are the core to continued economic and technological advancement of our country.
I would take this opportunity to urge you all to focus on all round development. You should always have your education laced with morality and ethics. This task has to be taken over by the academicians to provide value and ethic based education. You should all remember that, "honesty is the first chapter in the book of wisdom" and we should inculcate honesty and integrity in all what we do".
I earnestly hope and trust that, my esteemed academicians and budding technocrats will work with sincerity, honesty and dedication and thereby contribute to make this world a better place to live in.
I wish all the students a happy and meaningful learning at SVIM.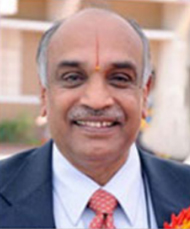 Shri Devendrakumar Muchhal
Chairman, Shri Vaishnav Institute Of Management, Indore
"Education is for improving the lives of others and for leaving your community and world better than you found it."
Education forms the foundation of any society. The thread of the growth of society depends upon the quality of education that is being imparted. It is important for the personal, economic, social, and political growth and development of society. Blessed with this vision and an untrammeled thirst to nurture the society, Shri Vaishnav Institute of Management, Indore plays an important role in moulding a nation's future by facilitating all round development of its future citizens.
We believe in the ideology to infuse good values and morals in an individual's consciousness as it is the perfect stage to mould a person into a complete leader with all the human emotions, values and heritage. Through Education we can create a new world and learn how to sustain it for future generations. It should no longer be viewed and treated as a privilege, but rather considered a right and necessity for the individuals of society.
I feel proud to acknowledge the contribution of highly qualified, dynamic and multi-talented faculty, non teaching staff and my students for this. The college has the privilege of having a healthy, harmonious ambience and rich values which have played pivotal role in shaping the future of innumerable students. They not only inculcate social and moral values, compassion for nature, pride for Indian culture and tradition and awareness for one's rights and duties but also make students good human beings and confident leaders.
I wish everyone a success to achieve their aim and urge them to contribute for society and nation.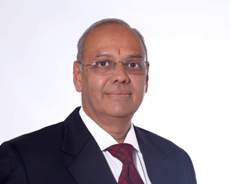 Shri Vishnu Pasari
Secretary, Shri Vaishnav Institute Of Management, Indore
"The aim of education is the knowledge, not of facts, but of values."
Moral values are the set of principles that guide a person to hold high-opinions and follow the path of righteousness. It is worth significant in building up the character and personality of an individual. Students are the future of India therefore during the process of learning it is important that the student has a strong base of moral values so Shri Vaishnav Institute of Management put extra efforts to inculcate values as we consider it is the most important duty of the educators.
With the best infrastructure, techno-savvy ambience, latest gadgets to equip one to stride with competitive fervor, ever increasing new job oriented courses, career-counseling and highly enthused qualified teachers along with values, we earnestly endeavor to help students in realizing their dreams and mould them into self confident and pragmatic to face various challenges with courage, conviction and achieve success.
The commitment of institute towards quality education and processes is reflected with the accreditation 'A' grade by UGC –NAAC (The National Assessment & Accreditation Council) in consecutive two cycles. I am duty-bound to thank the Management, Faculty, Staff and the Students for this achievement.
Best wishes and blessings for an enriching and fruitful academic year! I wish all the best in the process of seeking to become a part of SVIM family. I am confident enough that the students will make themselves stronger and better day by day, adding a new leaf to the grandeur of the institute.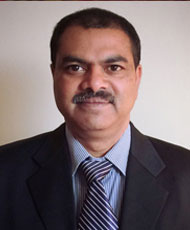 Dr. George Thomas
Director, Shri Vaishnav Institute Of Management, Indore
"Ensuring quality higher education is one of the most important things we can do for future generations."
I, on behalf of Shri Vaishnav Institute of Management, Indore family welcome all the students aspiring to excel in multidimensional sphere of success. In this era of inescapable competition, it is of paramount importance to be equipped with appropriate knowledge, habits, attitudes and values leading to holistic development. Therefore, our excellence is not just confined to the classroom; we are also notably active in conducting conferences, workshops, seminars, guest lectures and other co-curricular activities. These activities expose students to aspects beyond the curriculum, thus adding high value to their professional success. Also they would develop into a versatile personality while nurturing for future endeavours.
Our special emphasis is on Outcome Based Education (OBE) and Experiential Learning. We are constantly reviewing set up to update and improve while making sure that students gain thinking skills, analytical frameworks, entrepreneurial skills, interpersonal and communication skills.
Our mission is to transform students into rational thinkers, competent workers, law abiding citizens and spiritually enlightened individuals. I earnestly believe that the rich values and traditions imbibed here would carry them to greater heights.
I am sure the students will always strive to uphold the dignity of the institute and keep its flag ever flying high.